Four Point By Sheraton Makkah Al Naseem
Standard Twin Room City View.
Standard King Room City View.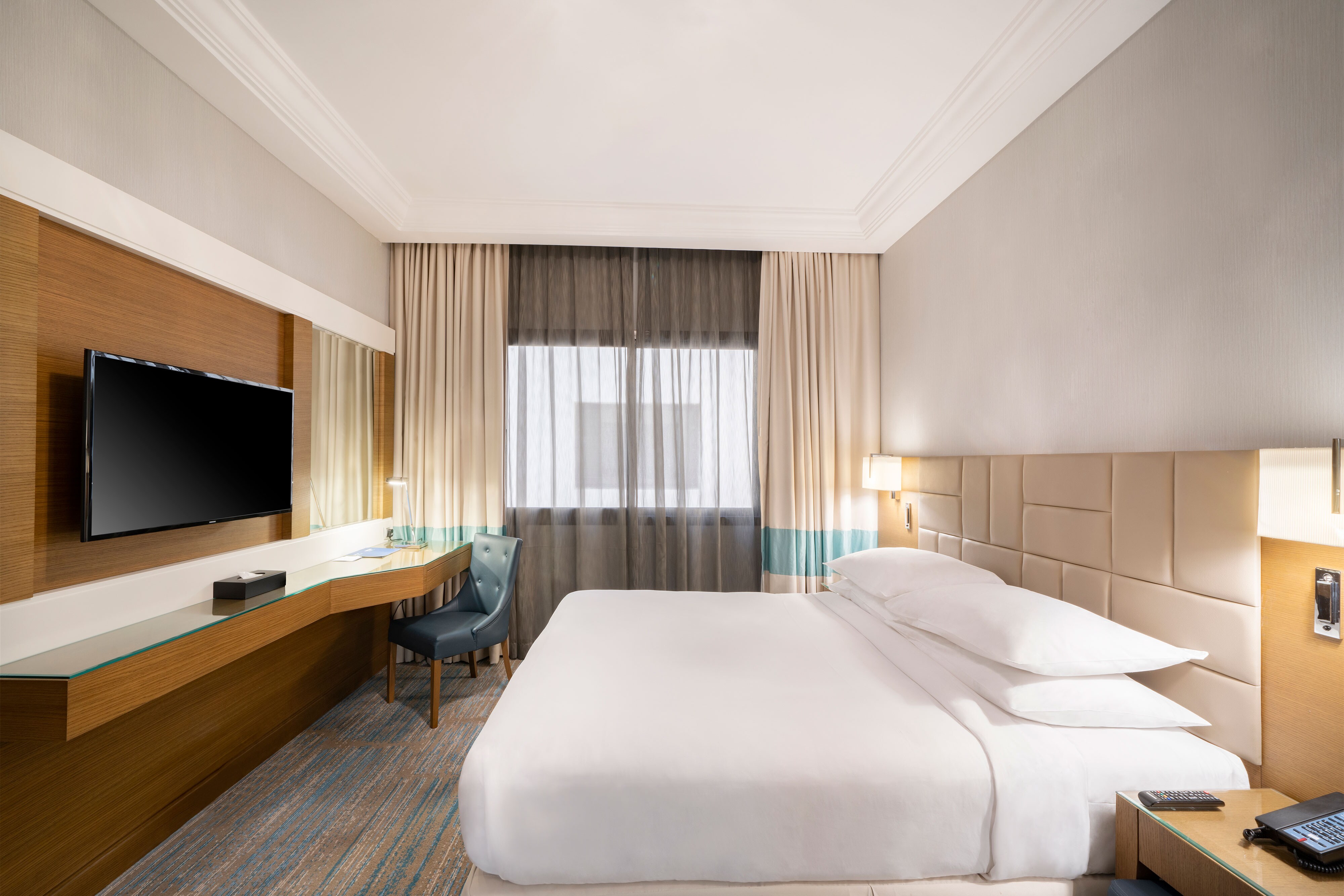 Deluxe King Room Al Haram.
Location: Mosque، Third Ring Road Al Naseem District At Al Rajhi، Mecca 21955, Saudi Arabiae.
Four Points by Sheraton Makkah Al Naseem welcomes travelers with 1,136 hotel rooms and suites, superb service and views of Makkah and Al Rajhi Mosque.
From our Ottoman-style property, guests can take a free shuttle to Saudi Arabia's sacred Masjid al-Haram and the Kaaba. Our hotel is also near Umm Al Qura University, Makkah Mall and the sacred sites of Mina, Muzdalifah and Arafat. Tour bus operators appreciate our hotel's large, free parking lot, unique for Makkah hotels. Recharge in spacious accommodations with amenities.
Jabal Omar Hyatt Regency.
Raffles Makkah + Fairmont.
Swissotel Al Maqam + Fairmont.
Dar Al Tawhid International Makkah
Hilton Suites Makkah Opposite Al Haram
Swissotel Makkah
Location: King Abdul Aziz Endowment, Ajyad Street, Mecca Saudi Arabia
Swissotel Makkah is not only the first Swissotel to be opened in Saudi Arabia, but is also the first to commence in the entire Middle East. As part of the prestigious Abraj Al Bait complex, the deluxe Swissotel Makkah is a contemporary five-star hotel located in close proximity to the holy
Masjid Al Haraam, overlooking the Ka'aba, as well as the entire Masjid. Swissotel Makkah offers 1,487 elegant rooms and suites with modern contemporary design that complements the rich, hospitable values of Arab culture. The hotel includes two restaurants, one meeting room, and one business centre. With private entrances that make it easier for pilgrims to reach the Masjid Al Haram, Swissotel is also the only property in the Abraj Al Bait Endowment with a direct entrance through Ajyad Street.
Makkah Clock Royal Tower, A Fairmont Hotel
Location: King Abdul Aziz Endowment، Ajyad Street، Mecca 24231, Saudi Arabia.
Located adjacent to the Masjid Al Haram, Makkah Clock Royal Tower, A Fairmont Hotel boasts a prime location
as the closest hotel to Kaaba and yet the best for Umrah and Hajj. Standing as one of the world's tallest buildings with 76 floors, Makkah Clock Royal Tower, the focal point of the Abraj Al Bait Complex, part of the King Abdul Aziz Endowment Project, is the iconic symbol of hospitality in the Holy City.
M Hotel Al Dana Makkah by Millennium
Location: Ibrahim Al Khalil, St, Building no. 2771, Mecca Saudi Arabia.
The M Hotel Makkah by Millennium is a five-star luxury hotel located in the holy city of Makkah Al Mukarramah. Enjoy quiet and comfortable accommodation that combines
modern touches with traditional hospitality to provide the warmest welcome to Makkah Al Mukarramah visitors. Designed, built and furnished according to the latest world hotel standards, our accommodation in Makkah proudly offers high service quality to meet the satisfaction of modern travelers
Dar Al Tawhid Intercontinental Makkah
Location: طريق ابراهيم الخليل، Al Haram, Mecca 21955, Saudi Arabia.
Located within the white marbles of the Grand Mosque of Mecca al-Masjid al-Ḥarām with few steps from King Fahad Gate & the most sacred site in Islam (Kaaba), our hotel's two private entrances help
guests move directly from their rooms to al-Masjid al-Ḥarām for the daily prayers & the religious activities of Umrah and Hajj. Our elegant restaurants, cosy Zamzam cafe & prayer hall are overlooking al-Masjid al-Ḥarām & the nearby city landmarks include Jabal Al Nour & Zamzam Well.
"3 Luxury Hotel under 1 Umbrella, Makkah Clock Royal Tower, Raffles, Swissotel. Deliver Services by Malaysia, Indonesia, Singapore Staff & Chef"

— Editor Pick – HotelierTrip
---
Raffles Hotel.
Swissotel.
Makkah Clock Royal.